Faster Masters Rowing Radio – the podcast for masters rowers. Tips, advice and discussion from Marlene Royle and Rebecca Caroe.
https://fastermastersrowing.com/register/podcast-supporter/
Timestamps
03:00 This past week. Regattas in New Zealand changing dates for Masters Champioships
06:00 What's in the September Faster Masters program? 3 separate training plans 1k, 5k and HOCR
11:00 Questions and answers
What's the best way to carry a single scull 1x?
Balance is critical – ensure you lift the sides of the boat first so you have identified the balance point.
Your hands do not need to be directly opposite each other on the sides of the boat.
Also you can hold the boat above your head or on your shoulder and use your free hand to add more control by holding the rigger or the gate – this helps when gusts of wind come.
You can choose to carry at the shoulder or waist.
The man in the picture is controlling the boat on his thigh before pivoting the boat above his head.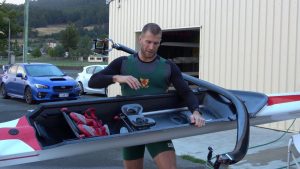 Check the geography you have to navigate in and out of the boathouse. Do you have to go around corners? How wide is your boat bay – do you need to put the riggers vertical to fit in and not hit another boat?
Rebecca likes to carry her single on her head and use her right hand to pick up the oars and carry them at the same time. It helps her to carry the oars with the shaft along her forearm or wedged against the side of her torso – to balance and control them. To put down the oars, lower the handles to the ground, then use your foot to cup under the shafts – let go with your hand – and gently lower your foot to the ground.
14:00 Racing 17 km and how to adjust 5km program?
Compare your race rate.
Number of sessions a week and choose your core sessions.
Do a 5k time trial on the water. Average split for Cat V intensity is likely 2-3 seconds per 500m slower for a longer race.
23:00 What is a dynamic recovery?
Rowing News has an article by Volker Nolte called Swing or Co-ordination of forces.
Advantageous to approach the change of direction with pressure on the feet. Co-ordinating forces so the foot stretcher is loaded.
29:00 Can drills have a negative effect if used with inexperienced rowers?
32:00 Different styles of rowing – should we be adaptable?
Coaches use different routes to accomplish change. Important to listen to what others say. How you row effectively depends on your body.
36:00 The Sequential versus the Simultaneous power phase in rowing. Leg and back drive phase.
n