For folks going to the Head of the Charles – we have created a stand-alone program which peaks for the October 22-24 Head of the Charles.
It's very similar to our 5k program, and is based on the race distance 4,702 meters.
This is INCLUDED in any of the monthly subscription programs. No extra charge, Select the 5k training program in our Individual or Crew training memberships and trust Faster Masters Rowing to get you fully prepared to race.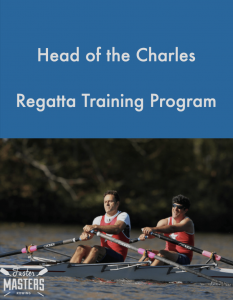 Each training plan is designed for masters who row 3 to 6 times per week. It includes "core" sessions which you mustn't miss and optional extra workouts.
The membership also includes land training, rowing and sculling technique, performance and aging well.
Racing a different Head?
We have got you covered.
There are 2 options – a subscription monthly program (as above) or a stand-alone 12 week Head Racing Plan – you choose your start date based on the event you are training for.
The 12 week program is not customized.
The monthly subscription programs are customized with training zones to suit you.