Rowers research, read and learn all the time. How to take your new ideas into the boat and test them out – do they work? Book of the Month with Jess di Carlo | Faster Masters Rowing Radio – the podcast for masters rowers.
Timestamps
03:00 Sculling Intensive course launch Every 5 years do a major reset and go back to basics on your sculling. This serves as a refresher course.
06:00 This Past Week – what we do to advocate for masters rowing. When people get nervous wierd things happen. Write it down and make a checklist for your regatta timings.
07:45 Coaches Eye has closed down.
Book of the Month
09:45 Book of the Month Mind over Water – lessons on life from the art of rowing by Craig Lambert Buy now. [affiliate link].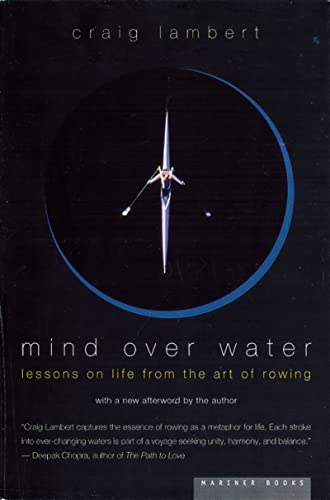 It is based on the Head of the Charles Regatta and being an older athlete learning how to scull. Craig recalls the Great North East Blackout of 1965. Read more rowing books.
21:00 You Belong Here. Rowing shows you are part of the club.
Apply new rowing techniques
23:30 Finding new rowing things to use in your practice. As a student of rowing it's an ongoing process.
24:45 Have a good system to capture information – a reference archive.
27:00 Putting the new idea into practice. As a coach it's important to hear how others describe things.
30:00 Back to basics – choose how to do the thing,. Break down the stroke – exaggerate or isolate that movement.
32:00 The value of repetition – do it multiple times. Can you verbalise what you want to happen?
34:00 Technique first and then power. Test your limits. Use this method to coach and apply your learning.