 Change yourself from a
Rower into a true oarsman, A
master of our sport
The proven
masters

rowing

training

program that gives you the

confidence

to become the

athlete

you want to be
*14 day money back guarantee. No questions asked.
Faster Masters Rowing with
Marlene & Rebecca
Rowing Coaches Focused on Athletes Like You
Daily workouts through the month
Land workouts for core strength
Video tutorials
Move towards the perfect stroke
Overcome your challenges
Learn how to handle the oars
Challenges you can handle
Lifestyle changes you will love
Create new habits and stick to them
Facebook Training Group
24/7 Email and Facebook Support
Make new rowing friends Step into the boat, sit down and take control.
Rowing is the sport that will see you through the rest of your life.
Sometimes it feels like nobody understands what it's like to be you, backing your choices.
You give everything to your family, to your job and your children.
And now it's time to give everything to YOU.
We CARE about every single member of our Faster Masters community and so do the other members. We are a group of friends who are on the same journey – learning to move a rowing boat.
From one masters rower to another – because your coaches row too.
WE ARE IN THIS TOGETHER SO YOU CAN BE AROUND FOR YOUR FAMILY FOR YEARS TO COME.
ROW BETTER, ROW FASTER AND BE THE ROWER YOU WANT TO BE.
Join now and get these BONUSES:
The Faster 5: key concepts you must learn – Bladework, Technique, Racing, Stroke Power, Fitness Assessment

(Normally $147)

YOUR personalised training zones

(Normally $47)

2 Drills guaranteed to 100% improve your rowing confidence

(Normally $29)

Technique as you age – the essential diamond frame

(Normally $9.99)

Ultimate Head Racing Guide for Masters

(Normally $47)

Confidence Builder Guarantee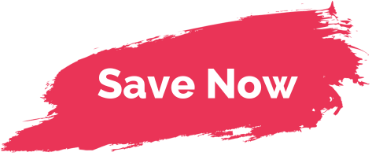 Pay up front $390
Normally $468 for 12 months
That's 12 months for the price of 10 for the individual training program
Less than your wine bill !
*plan is in US Dollars and recurs annually
Monthly membership
$39
per month
Get $20 off the first month for the individual program using coupon TRIALMEMBER
Less than 2 coffees a week.
*plan is in US Dollars and recurs monthly
NO MATTER WHERE YOU ARE AT …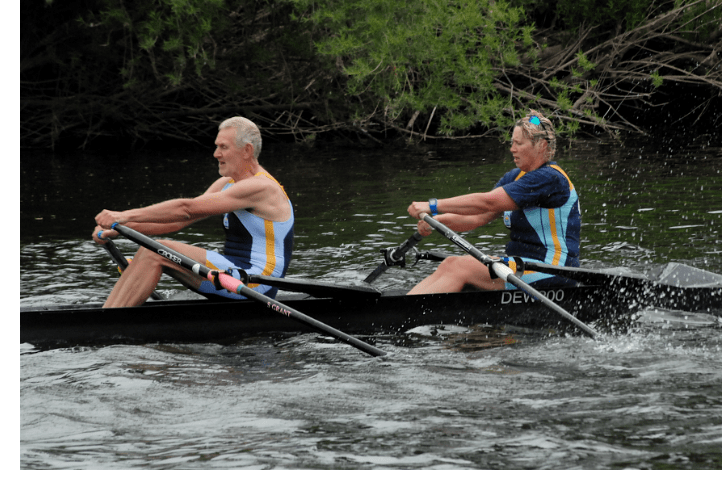 … If you are just starting out or returning to rowing after a break
… or you are retiring to row
… or anywhere in between.
Setting yourself up with a training plan and an athletic lifestyle
is the new system you need … to go from where you are now to where you
want to be.
Join Faster Masters & become the rower you want to be!
Check out these transformations

I must tell you your video critique was phenomenal and yesterday I went out and did the drills and my stroke length magically improved and my splits went down.

Rowing is already pretty expensive so I need to strongly consider costs. And I found the structure that I need to go it alone in terms of practices planning. Especially this year with the pandemic and no coach, I've relied heavily on Faster Masters to give a steady, progress-based approach to practices.

I can't think why anyone wouldn't benefit from Faster Masters.
I can't do every workout as scheduled, so I print them and keep, doing new ones until they are all completed, and then go back and repeat the ones I found either hard or helpful.
The program looks at the rower as a whole – strength, stability, rest, eating – most of which are not addressed by coaches that just run workouts to babysit their rowers – "Meet me here; ok, do 2x1000m. Go. …. Paddle for 3 minutes. OK, Go…… Back to the boathouse." I find this extremely UNproductive. I can do this on my own and take the time to add in drills when I feel something isn't going right. 

I really value the training plans. I don't always follow them strictly but I do follow the principle of the three hard sessions.
I have gained and followed some useful ideas about rigging for masters (shorter inboard) and interesting ideas like putting tape on the loom to check for digging.
The land training is really useful and I think many masters don't have that.
I think my training is better for it and I have picked up useful technique tips on the way.

Faster Masters – Training, Community, Rowing Lifestyle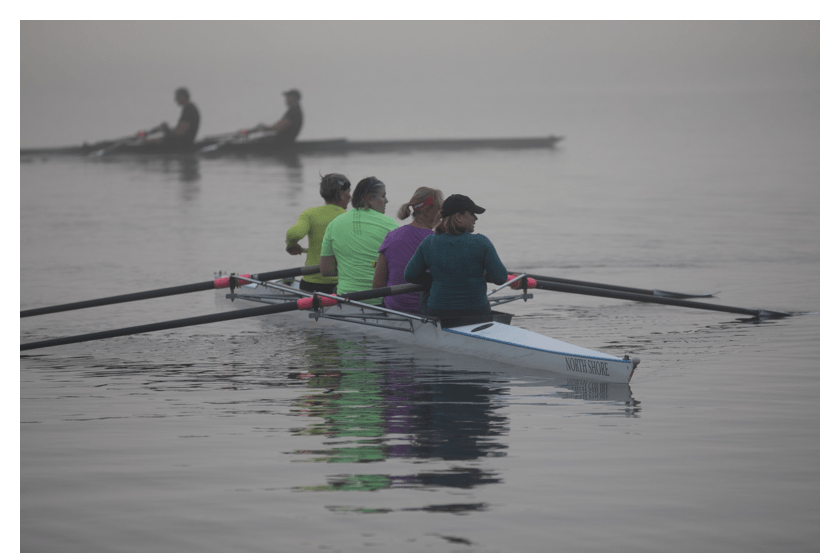 A mentality that you choose to be your own best version of yourself.
  You are ready to pay attention to your lifestyle, your health, how you train and
  how you row.
You are at a point in your life where you are ready to take care of yourself.
Becoming a FASTER MASTER means setting aside your doubts, all
your fears, all your excuses and every reason you think
you can't do it.
What is your commitment to yourself? Take care of yourself, do something
that excites and challenges you.
Sometimes this means not being over-committed – making time for what
matters to you.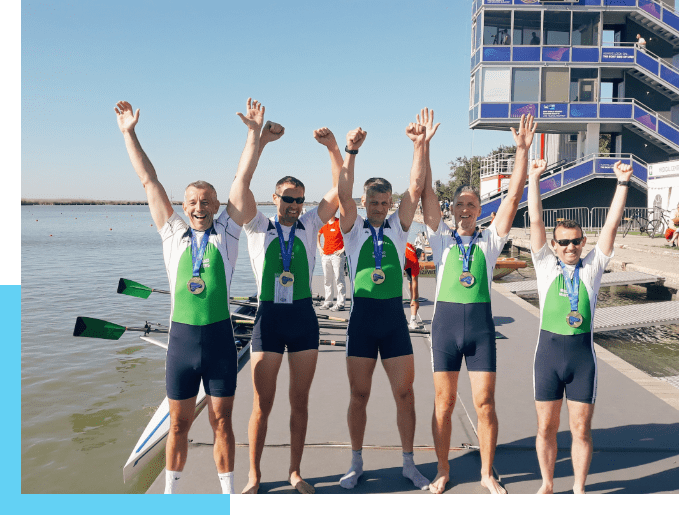 Sometimes you need help in your back pocket which is personal and is YOUR journey – progress in your own way.
Ask questions – get support in private.
Our coaches will help you.

Make your new habit so small that you can't not do it.
You row for Faster Masters; you are a
"type" of oarsman.
You want to do something that challenges you. That is out of the box.
Rowing is different, it takes more dedication than running a marathon, it takes more commitment over the long term. You have to go through extra steps to row. The time you spend on the water is transformative. You may be looking for nature, you may be looking for really intense fitness, you may be looking for flow in your movements, you may want to
push yourself to the absolute limit.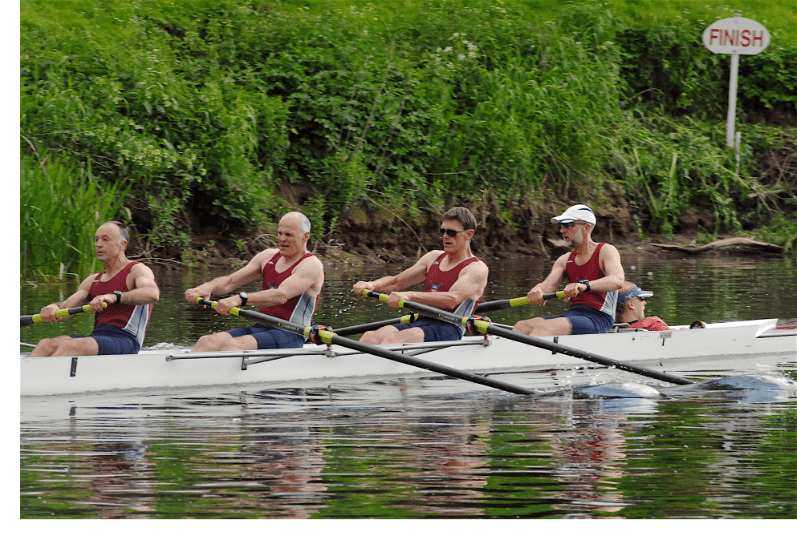 All are possible with Faster Masters Rowing.
Normally one on one rowing coaching costs you thousands of dollars.
But we were frustrated hearing about people not getting coached,
of clubs giving the masters no attention, giving them the old boats, of people
trying to figure it out alone.
And so we wrote this program for people JUST LIKE YOU.
Become the person you want to row with
Being welcomed, one of the crowd, happy to contribute to the overall crew group, yet also racing anyone who challenges you. You are joining a team. You have access to really good coaches here, who know the answers, who are a huge resource for you.
We've got your back. Are you ready?
15B Clarks Lane, Hobsonville,
Auckland 0618, New Zealand
1811 Englewood Rd, Suite 210,
Englewood FL 34223 USA
+64 22 647 3993 or +1 561 797 6547